November 22, 2021 Musical Therapy.
"Oh, fingers and toes, fingers and toes
Forty things we share
Oh, forty-one if you include
The fact that we don't care
See when it starts to fall apart
Man, it really falls apart
Like boots or hearts, oh, when they start
They really fall apart, well, fall apart" *
The energy of the song lifted the crowd. Two hundred people connected in a musical moment on a Sunday evening in the Kelowna Curling Club.
The band The Hip Replacements uplifted the souls and hearts of the audience and for two hours nothing else mattered. The Hip Replacements are a fantastic tribute band to the iconic Candian musical group the Tragically Hip. It is a wonderful play on words and they have earned the moniker to a T. In my opinion, the lead singer, Paul Sexsmith, is as good if not better than the original Hip singer Gord Downie. When he is singing his heart out he connects with the music and the people in a way few can.
It was a night that almost didn't happen for my wife and I. A night we needed.
Musical therapy.
We woke up after a week of chaos and we knew we had a day to ourselves. I looked on Facebook and read The Hip Replacements were playing that night. I asked my honey if she wanted to go. I knew she was a fan and we'd seen them before and knew they put on a good show.
It was nice to have music back after such a long time without the joy of watching live bands. It was a connection that has been greatly missed.
I commented on the post I saw on Facebook asking if there were any tickets available. Sure enough, I got a couple of responses. Two women said they had tickets for sale, they both said they DM'd me. Yet there was nothing on my notifications. The world of Facebook is one I hate to get caught in but hey it was Sunday morning what else would I do? Laundry or some other boring chore… Facebook it was.
I looked into my messenger and sure enough, there was a message from the women. Did I want the tickets? How much?
So I looked at who these people were and if I had any friends with them. The one had no friends showing on her profile except one and the other had a ton of friends, all were celebrities or some other thing but no real friends.
I replied anyway and they both agreed to sell me the tickets for fifteen bucks each ticket, ten dollars less than face value. They both claimed to be out of town so an in-person meeting was not possible They also wanted me to send them a Paypal payment for thirty dollars using friends and family. More suspiciously, both had names that didn't match the Facebook profile with their Paypal account.
Red flags went up for me all over the place.
But it was only thirty dollars. They promised me that it wasn't a scam, so I sent one of the women a secure Paypal payment, not friends and family. I told her to send me the tickets. She said no, for some reason the payment was blocked and not sent. Would I send it through friends and family (unsecure payment)? No thanks, I replied, I told her we decided not to go. Everything seemed very suspect with the people trying to sell me the tickets.
There was another person selling so I decided to try again (third time's the charm right?). She even texted me when I asked her to and she sent me a picture of the tickets. Except for the number she texted me from was an American number and the picture was of a generic folder that said click to open your ticket. No name, no nothing.
I called bullshit and said goodbye.
I told my wife that the tickets were a scam and we couldn't go. I reached out to a few other people but it looked like the event was sold out and we would have to miss it.
Not the end of the world. Except we really didn't know how badly we needed to feel some musical therapy.
Less than two hours before the show and we had no tickets.
Then we both got a message at the same time – it was a pair of tickets from a lovely friend of ours. Tamara sent a pair of tickets, free of charge from some friends that couldn't make it.
Suddenly it was time to move. We arrived at the Kelowna Curling Club at 7:15 and almost all the tables were gone. Yet somehow my wife was offered a table right up at the front.
It was awesome.
She laughed and said to me how sometimes good things happen when you do a good deed.
Earlier in the day, Krista was visiting her mom when some elderly neighbour friends called. They were very distraught. They were flying to Nova Scotia the next day and couldn't figure out how to fill in the forms online that they needed in order to travel. Covid measures in Nova Scotia mean there are forms to fill out – when you're over eighty that can be a daunting task.
Well, honey helped them fill the forms and they were taken care of. They tried to offer her money but Krista refused.
Three hours later the rocking sound of one of her favourite bands filled her soul with a renewed energy. Jimmy LeGuilloux made his guitar sing and I could feel it with every fibre of my being. It was amazing to reconnect with the band, the music and the people in the room. For one evening in the coronaverse nothing mattered in the world except the rhythm and the joy of music.
If only we could dance.
But we could sing and we all sang along to the lyrics. The crowd stood and cheered the show. It was a connection that was a long time coming.
And we all sang together:
"Two fifty for a hi-ball
And buck and a half for a beer
Happy hour, happy hour
Happy hour is here" *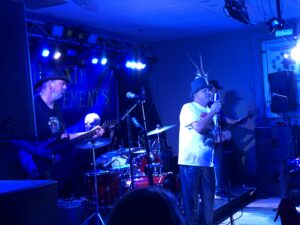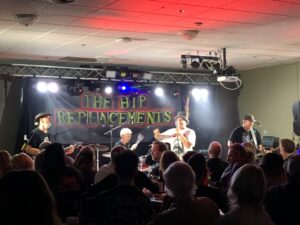 Check out The Hip Replacements here.
Copyright The Tragically Hip
"Boot or Hearts" from the album Up To Here
Songwriters: Gordon Downie / Gordon Sinclair / Johnny Fay / Paul Langlois / Robert Baker
Boots or Hearts lyrics © Peermusic Publishing
Little Bones from the album Road Apples
Songwriters: Johnny Fay / Robert Baker / Robert Gordon Sinclair / Jospeh Paul Langlois / Grodon Downie
Little Bones lyrics © Little Smoke Music, Southern Music Pub. Co. Canada Ltd.